"why would you do something like that" sort of way, I stated, "I like to do cool things, in cool places, with cool people and this event fits the bill." Terri Schneider



I discovered this cool blog of
Terri Schneider
few days ago and is hooked to her daily update on a great adventure that she is undertaking. Terri is a adventurer by profession, taking part in all sorts of ultra running, adventure race, ironman etc. Right now she is running through the Gobi Desert in Xinjian, China, competing in the
Gobi March
as part of the
Race of the Planet
series.
Gobi March is a 250km / 6 days foot race that require athlete to run/hike across the vast desert unsupported, they have to carry their own food, clothing and gear during the day but do get to stay in a tent at night after each stage. In addition to Gobi, the series also races in Sahara (Egypt), Atacama (Chile) and those who has completed all three can take part in the 'Last Desert - Antartica'!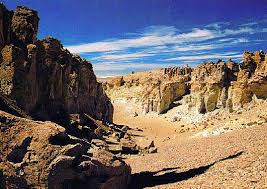 Sahara / Atacama Desert / Antartica


Terri has been racing strong for the first few day and had been well up for the first spot, but she was broken down by diarrhea problem two days ago, after struggling through the 5th day race, she is running fast again on the 6th day. She unlikely to recover the first spot but no matter, she said, '
t's been a great adventure – cool place, cool people, cool event.
' Stories like that is always inspirational (not that I will try to pick up more injuries in future races to write stories for you guys.)
Now onto the serious business, apparently you don't have to be superman to do the race, lots of participants are
working professional
who is simply looking for a challenge in their lifes. You need to train a lot to win the race but lots of people only equipped themselves with after work training. So I am putting this up on my 2007 or 2008 to do list!
More from Freeyasoul on: Running Gobi March